Review: Ender's Game, Orson Scott Card
My rating: 4 out of 5 stars.
This was the first fiction novel that I have read by Orson Scott Card, though I have read several of his excellent non-fiction books about the craft of writing itself. Ender's Game was written in 1994 and won the Hugo and Nebula awards. Last year (two decades after it was published) it was one of the top selling science fiction novels of the year, so you could say that the story has longevity.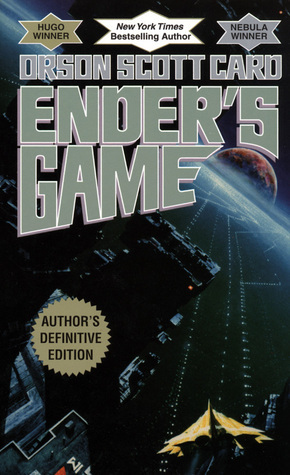 The story features a small boy called Ender Wiggin. He lives on an earth that trains children for space combat. Although the book revolves around the lives of Wiggin and other children, I wouldn't describe this as a children's book. The story's themes are about the stress and pressure that children face when put into such an environment and how they are forced to behave almost as adults under such pressures in order to survive. It is a credible theme and one that is backed up by real world examples of children caught in civil wars. Childhood is something that is taken for granted, but not something that every child has the luxury of experiencing.
Ender Wiggin has to prove himself time and time again, first against his own siblings, then against his class mates at school and finally through the military academy where much of the story takes place. His journey is a tough one and he has to overcome many obstacles to succeed. His teachers seem determined to take away every possible advantage, forcing him into more and more desperate acts to stay ahead of the pack and keep on winning. There's a twist in the story which adds to the enjoyment. At the end of the book, a large amount of information is added in a few pages, which could have been spread out into another book perhaps, but since this is the first of a series, I'm sure there is more to come for Ender Wiggin.
I'd recommend this book to anyone who enjoys science fiction.
You can find this book pretty much everywhere, but here is the Amazon Link:
Amazon
[Posted by: Peter James West, author of the science fiction series: Tales of Cinnamon City.]
If you're new to the my books, you'll find that they're a mixture of military science fiction, action, and fantasy.
Tales of Cinnamon City is a science fiction series set in the richly detailed world of Megarothia.

For a limited time, you can get a FREE copy of Information Cloud – the first novel in the series – direct from this site. Just click the button below to get started.